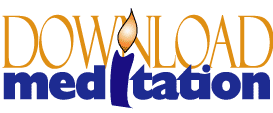 Welcome to our brand new meditation download portal.
This is very simply, the most inspirational resource you could have for your meditation and spiritual life.
We have been compiling for some time downloads, that include meditation music, guided meditations, meditation videos, fantastic posters and inspirational talks and speeches in audio and visual formats.
Most resources are free, but you can help us keep our society going by becoming a 'premium' member. It's $10AUD and you will have access to every download on our site (including CD quality files), get 10% off our items for sale, as well as the satisfaction of knowing that you are helping us spread the meditation message a little further around the globe. You need to be a regular member of our free online course first (click here to sign up) and when you sign up you have the option of becoming a premium member. Don't worry, you can always become a premium member later by clicking on the box above right.
Remember that our free online meditation course features radio quality guided meditations that you can download for every class. Here's two to get you started - Preparing to meditate and Visualisation. (right click and "save target as" or "save link as" into the folder you want - if "save target as" or "save link as" is greyed out click here)
copyright © www.meditation.org.au 2021 - The Meditation Society of Australia